Ask your own questions
Explore on your own
Easily summarize and visualize your data without ever writing a line of SQL or having to wait on a coworker.
Quick and easy lookup
Browse or search through your tables, then filter things down to find just what you need.
Visualize results
Move from your data to beautiful graphs and charts with just a few clicks.
Power when you need it
When you need to dig into the complicated stuff, Metabase provides a flexible GUI query builder and an elegant SQL interface.
Share what you find.
Pulses
Schedule and send charts or results to your team via email or Slack. Set up alerts to let everyone know when something needs your attention, or when you've met that goal at last.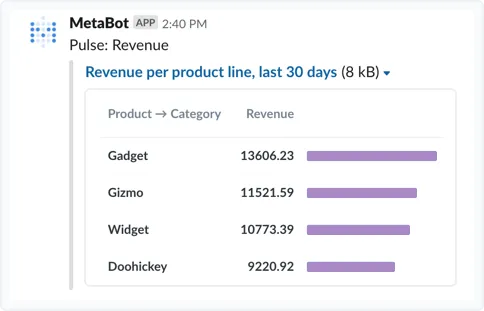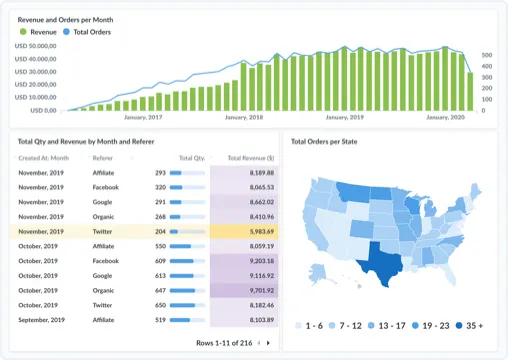 Dashboards
Let everyone on your team create, organize, and share beautiful collections of visualizations and data.
Open source and constantly improving.
Metabase is built and maintained by a dedicated team, and is open source, so the community can help improve it too. You get new features, interface improvements, and bug fixes for free, and can forget about building or maintaining your own analytics platform.
Metabase on GitHub
Free and simple to set up.
Start out simple and run Metabase on your own laptop, or set it up for your entire company on your own servers. You get full control of how and where you run Metabase which means:
No storage limits, pricing tiers, or caps.
Your data stays private and on your own servers.
Setup Guide
" Setup was trivial. Run a jar, log in, tell it how to get to our databases, and we were up and running. 5 minutes. Boom, done. "
Ryan Barrett
Color Genomics
" Having Metabase lets us launch features in record time. As fast as we can get credentials to the database, debugging and tracking can be done in literally less than 5 minutes. "
Crystal Widjaja
SVP Business Intelligence - Go-Jek
Need a little more?
Metabase Enterprise lets you embed analytics in your own app, track usage, sandbox access, and simplify sign on for those cases where you need a little extra.
Learn about Metabase Enterprise
Get started
Pick how you want to run Metabase and we'll get you on your way.